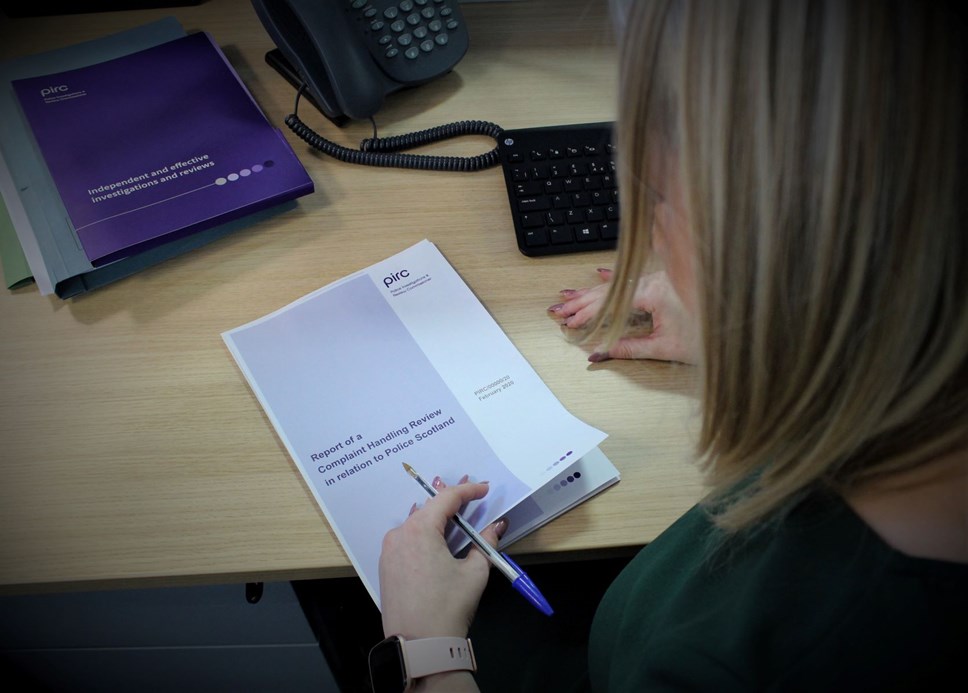 Four Complaint Handling Reviews published by the Review team this week
Four Complaint Handling Reviews (CHRs) have been published by the Review team this week, addressing a total of 15 complaints. One of the complaints relates to the Ministry of Defence Police, the other 14 are in relation to Police Scotland. We found that 11 of the 15 complaints had been handled to a reasonable standard and issued seven recommendations to address identified shortcomings
The complaints in PIRC/00027/20 arose following the applicant's interactions with Police Scotland in respect of domestic abuse allegations. We reviewed the handling of three complaints, including two related to allegations of discrimination. We found that two of the complaints were not handled to a reasonable standard and have made three recommendations to address this.
In PIRC/00334/20, a complaint was made against officers from the Ministry of Defence Police (MDP) after the applicant alleged that he was prevented from accessing a public road. MDP did not uphold the applicant's complaint, however we found that the MDP did not handle the applicant's complaint to a reasonable standard and have recommended that the applicant's complaint is reassessed and a further response issued.
The five complaints against Police Scotland in PIRC/00340/20 arose after the applicant made an allegation of assault. We found that four of the five complaints were handled to a reasonable standard, and issued two recommendations to address the shortcomings in the handling of one of the complaints.
The handling of six complaints was examined in PIRC/00113/20. The complaints were made after the applicant had interaction with Police Scotland officers while attending his ex-partner's house to pick up his son in April 2020. We found that Police Scotland handled all of the applicant's complaints to a reasonable standard, but made one recommendation to address a procedural shortcoming in Police Scotland's response to one of the complaints.
All of our recommendations should be implemented by Police Scotland within two months.