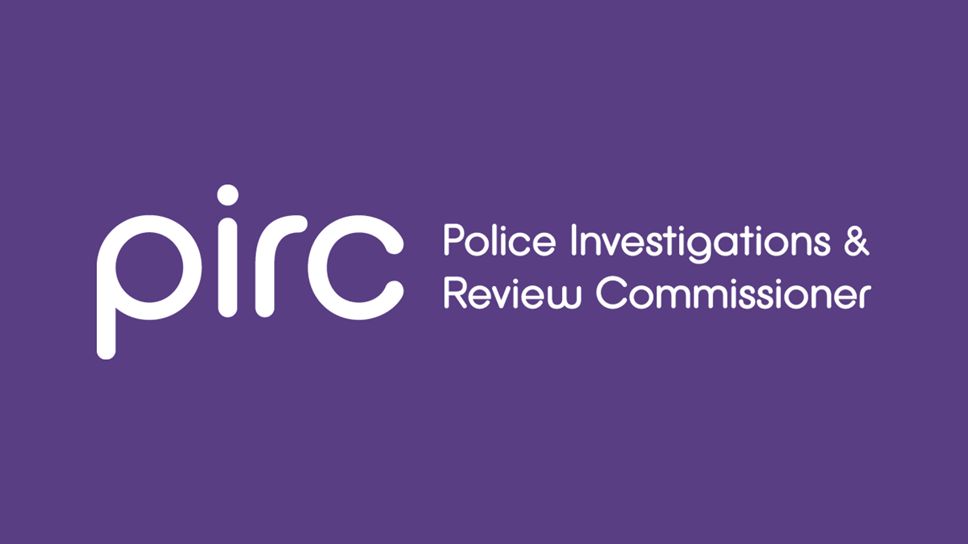 PIRC Annual Report 2021-2022
The Police Investigations and Review Commissioner (PIRC) today issued her annual report for 2021-2022.
The report highlights that PIRC dealt with the highest number of referrals to date - 602 from the Crown Office and Procurator Fiscal Service (COPFS) and policing bodies. This realises a 10% increase from last year, resulting in a 59% rise in the number of investigations conducted.
The increase in referrals is, in part, driven by the implementation of the recommendation from the Dame Angiolini Final Report, that the COPFS should instruct the PIRC to carry out independent investigations of all police referrals for on-duty allegations of alleged breaches of Article 3 (mainly assaults) made against police officers and police staff.
Despite the increase in its workload, PIRC continued to meet its strategic objectives of 85% of investigation reports being submitted to the referring body within three months; and 97% of all referrals being assessed with a decision taken within five days of receipt of all relevant information.
The report also shines a spotlight on the increasing demand on policing to deal with people experiencing mental health crisis or illness. Of the 31 death investigations carried out by our team in 2021-2022, 54% of the deceased had a background of mental ill health. PIRC wholly supports recommendations to review the efficiency and effectiveness of the current approach to mental health to relieve pressures on police officers and provide more support to people with mental ill health.
PIRC also improved its performance in dealing with complaint handling reviews (CHRs) from the previous year. They concluded 73% of all CHRs within four months, just falling short of the strategic objective of closing 80% of all CHR cases within four months.
Commissioner Michelle MacLeod said: "2021-2022 has been a year of significant change and momentum for PIRC. With the COVID-19 pandemic ever present, I offer my gratitude to staff for their continued delivery of objectives and to corporate services for their instrumental role in helping the organisation transition to a safe and productive hybrid model.
"In addition to our core business, PIRC has been involved in other significant areas of work. PIRC was heavily involved in a multi-agency approach to prepare and plan for the COP26 UN Climate Change Conference held in Glasgow in November 2021 which, from a policing perspective, was one of the most significant events that has ever occurred in Scotland."
PIRC has also progressed a number of key recommendations arising from the Dame Angiolini Report. The report explains nine of the 24 recommendations that directly impact on PIRC have been discharged. These are aimed at improving the effectiveness of PIRC processes and procedures in relation to complaints handling, investigations and misconduct issues.
Commissioner Michelle MacLeod said: "This year has also seen a continuation of the Public Inquiry to examine the events surrounding the death of Sheku Bayoh in 2015. Our PIRC Public Inquiry team has continued to engage in the Inquiry process and the presentation and disclosure of relevant material. This is an important Public Inquiry, and I am committed to implementing the learning that may arise from its findings."
Commissioner Michelle MacLeod concludes: "This report highlights a period of change for PIRC, as well as the significant challenges faced, and achievements made. We recognise the continued need to deliver core functions and provide robust scrutiny of policing in Scotland. Over the coming year, we will be looking at additional ways to progress our services and engagement practices as part of our ongoing commitment to strengthen confidence in the police."
A copy of the Annual Report 2021-2022 can be found on our website.
Ends
Notes to editors
Dame Angiolini Report
The Dame Angiolini Preliminary Report (June 2019) and Final Report (November 2020), delivered a wide range of recommendations for improvements to systems, procedures and the legislative framework. This included recommendations around complaints handling, investigations and misconduct issues.
Further details are available at www.gov.scot/groups/independentpolicingreview/